Experience Farm & Play Forest Het Meerdal
Center Parcs will introduce a completely new experience in Het Meerdal. The Experience Farm and Play Forest consists of the full redevelopment of the natural heart of the park with a new concept where interaction with- and immersion in nature is key.
The key elements:
Full focus on interaction & immersion with nature
Enjoy a rich experience of guided and unguided activities with 1 key focus: experience
Be one with nature in an area we gave back to nature
Use all senses to realize an immersive experience
As the Experience Farm and Play Forest are a combination between both new facilities and activities, including a Nature Lodge as edutainment center and a dedicated Rangers team that welcomes guests, this experience perfectly blends all aspects of our new CSR Strategy:
Edutainment through fun facts, figures: always on a nice way and both supervised as well as self-led
Sense through immersive elements, like the brand-new Gardens
Experience through a wide range of activities but mainly with real interactions with nature & animals
Experience Farm  (NL: Beleefboerderij; DE: Erlebnisbauernhof; FR: La Ferme du Savoir)
An enormous Farm in the heart of the park with: Farm Square: to discover the real life on the farm
Gardens: home for herbs, plants and more! With both covered (green house) and uncovered gardens
Nature Lodge: your place to start your farm discovery, get edutained or start one of the many activities
Farm Buildings: we have two of them! One for small animals and a special and unique home for goats
And above all: all areas invite to play, experience, learn and discover! Experience it on your own way.
Play Forest (NL: Klauterwoud; DE: Spielwald; FR: La Forêt des Grimpeurs)
A true play experience inside nature! With a wide range of natural (wood, stones and more) play structures, kids climb around trees or enjoy an activity at the Nature Theatre.
Pet Policy
Pets are allowed in almost all cottages, for all BNGF parks the following rules apply:
1 pet is allowed in a 2-pax cottage
2 pets are allowed in a 4-pax (or more) cottage
No exceptions are being made for more pets in a bigger cottage and pets are not allowed in themed cottages, apartments and hotel rooms.
Dogs must be kept on a leash outside the cottages
Pets must be reported to the park upon reservation and upon arrival
Guests must ensure that the pets are free of vermin
Dogs and cats must always have a chip
Upon request guests must show the vaccination booklet of the pet
Prices of pets (subject to change)

Pets facilities per park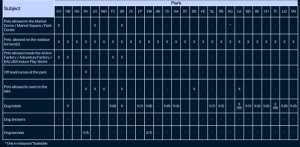 Pets in Themed Cottages
As of the 28th of March, it is no longer possible to book a pet at a themed cottage in all BNGF parks. Existing bookings with future arrivals will remain unchanged.
Assistance dogs
Assistance dogs are always welcome at all our BNGF parks.
In all cottages assistance dogs are allowed. Assistance dogs are also allowed in themed cottages, apartments and hotel rooms. Assistance dogs are also welcome in all our Central Facilities
For reservations:
Guests with an assistance dog don't have to pay a surcharge for their cottage. It is only bookable through the Call Center and not via the website.
https://www.tdnieuws.nl/wp-content/uploads/2023/02/CP.jpg
250
300
Stefanie
https://www.tdnieuws.nl/wp-content/uploads/2023/11/TD-logo2-300x36.png
Stefanie
2023-03-17 09:18:18
2023-03-17 09:18:57
Center Parcs | Nieuws & Updates maart